Top 20 To-Do List Apps You'll Want to Look Into in 2023
Checking off items on a to-do list has to be one of the world's greatest pleasures—besides popping bubble wrap, of course.
Occasionally, our brains tend to let us down when it comes to remembering birthdays or chores, so why not let a checklist app do the hard work of keeping track of things? We have reviewed 20 best to-do list apps to consider using in 2023, including free and paid software. Compare features and prices and find the best app to manage your to-do lists.
What can to-do list apps help you with? There are many ways these tools can make your daily life easier, and these are just a few.
Why Should You Use To-Do List Apps?
Time Management—Never miss an important task again. To-do list apps have reminders and alerts to keep you from missing a deadline or forgetting about a task you created.
Productivity—Perform a weekly review of your tasks, use task visualization, and track your progress to understand how productive you really are. Some checklist apps offer advanced productivity options like the Pomodoro timer.
Ease of Use—What is the interface like? Is it easy to create and manage tasks, or does it take a while for you to get used to the app?
Collaboration—If you are looking for a to-do list tracker for work, make sure that you pick an app that has collaboration tools such as task assigning, live chat, messaging, etc.
Additional Features—What devices does the app support? Are there integrations with other software? How can you organize tasks, and can you break them into smaller items?
Tech Support—If you get stuck or experience any issues, it's essential to have great support. Some to-do list apps on this list don't have live support, so consider that you may have to rely on email support that can take days.
Pricing—You don't need a paid to-do list app to plan a party, but most of these tools have very basic features unless you choose a paid plan. We have included the pricing for each app so you can get the best for your money's worth.
Now that we've got that out of the way, let's move on to the actual list!
Best 20 To-Do List Apps to Use in 2023
1. Infinity — A Versatile Checklist App for Personal and Business Use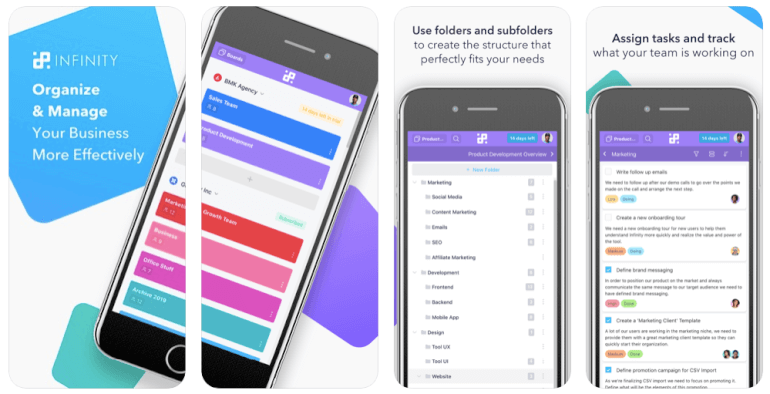 Infinity takes care of your tasks so you can become more productive. From simple checklists to large company projects, Infinity's flexible structure allows you to create and scale tasks with ease.
To avoid clutter, you can organize items within your workspace into folders, subfolders, and tabs. There are 23 attributes to add to your items, such as date, labels, text, checkboxes, formulas, and attachments. Infinity lets you build customizable frameworks and processes using an unlimited number of boards within your workspace and structuring each board to follow your data flow.
Infinity to-do list app offers multiple views—including Table, Columns, List, Calendar, Gantt, Chart and Form—that allow you to see your data from a different angle, as well as filter, group, and customize options to display it in a way that makes the most sense.
"For me, ease of use is the most important feature in any tool. Infinity totally nails it with that. It has so many different features that make it very easy to manage the different projects within my business as well as collaborate with partners as well." - Capterra review
The Zapier integration lets you connect Infinity to over 2,000 other apps, including Gmail. Infinity also integrates with Clockify, which enables you to track time spent on tasks within Infinity, review timesheets, and create reports. The Trello integration allows you to import all your data from Trello within seconds.
Key Features
Infinity offers an extensive combination of features that will have you all set for project management, organization, and effective collaboration.
Infinite Structure—Create an unlimited number of boards to customize them in an endless number of ways.
Different Views—Organize your data in Table, Columns, List, Calendar, Gantt, Chart and Form views.
Customizable Attributes—Pick from 22 attributes: date, labels, checkbox, text, etc., and tailor them to your project's needs.
Drag & Drop Interface—Add and order elements in your workspace within seconds.
Filters, Group & Sort—Customize which data to see and how.
Templates—Over 50+ ready-made templates for CRM, employee management, and more.
Team Collaboration—Device synchronization enables you to work with your team in real-time.
Document Management—Easily add documents to share with team members or organize within your personal workspace.
CSV Import/Export—Easily add CSV files from other programs like Excel.
Task Management—Assign and organize tasks by progress or project phases.
Activity Tracking—Keep track of recent changes, pending tasks, and team member activities.
Progress Tracking—Check off completed tasks and track overall project progress.
Access/Permission Control—Customize who can see and edit your data.
Automatic Backups & Data Recovery—Never lose valuable information.
Clockify, Trello, and Zapier Integrations—Connect to thousands of third-party apps, import data from Trello, and track time for your tasks.
INFINITY TIP: Checklist is a very useful attribute that can help you categorize your items even further. For example, you can use the Checklist to create subtasks within one task and then mark them as done once they are completed.
Infinity offers dozens of personal templates that simplify everyday tasks from habit tracking to party planning. Check out some of our templates:
Pricing
Infinity offers two types of plans: Basic and Pro. Basic plans start from $3.75 per user per month, while Pro plans start from $6 per user per month. All plans come with a 14-day money back guarantee, which allows you to get your money back in 14 days from the moment of purchasing a subscription plan.
2. Google Tasks — A Straightforward To-Do List Planner
Image Source: neowin.net
Google Tasks is one of the greatest free to-do list apps if you already use Google Workspace. Since it is connected to your Google account, you can easily add things like due dates and reminders directly into the Google Calendar.
This checklist app has limited features: you can create tasks and subtasks within lists, add notes and reminders, and sort your tasks. It is a pretty simple tool for personal projects, but it lacks advanced features that would make it suitable for work task management. Still, if you need a free checklist app to go with your Google account, Google Tasks is perfect for this.
Key Features
List View
Tasks and Subtasks
Multiple Lists
Notes
Due Dates
Sort Tasks
Gmail Account and Google Calendar Integration
Google Calendar Reminders
Pricing
Google Tasks is free to use.
3. Asana — A To-Do List and Project Tracking Tool
Image Source: asana.com
Asana is one of the best to-do apps on this list in terms of features and versatility. It offers multiple task views (list, timeline, and board), collaboration features, API and third-party integrations, etc. One of its strong points is the ability to handle complex to-do lists for projects involving multiple people.
Asana offers a free basic plan, which should be enough for personal needs. However, if you're looking for a checklist app for your work projects, you should consider one of the paid plans that provide more freedom and advanced collaboration options.
Key Features
API
Third-Party Integrations
Access/Permission Control
Data Import/Export
Search Functionality
Template Management
Categorization/Structuring
Team Collaboration
Chat & Messaging (Inbox)
Timeline & Gantt Chart
Calendar Management
Kanban (Board)
File/Docs Management
Customizable Fields
Task Management
Drag & Drop Interface
Data Filtering
Reporting & Statistics
Activity Tracking
Progress Tracking
Public/Shared Workspace
Pricing
A free basic plan with limited features, paid plans starting at $10.99 when billed annually.
4. Trello — A Kanban-Based Checklist App
Image Source: trello.com
Trello is one of the most famous checklist apps based on the Kanban view, offering an overview of your tasks in the form of cards. You can order task cards within columns such as 'to-do', 'doing', or 'done' to easily track your progress.
Trello has a simple interface and is easy to use, even if you don't have any experience with this kind of tool. There is a free plan with up to 10 boards where you can create and organize different kinds of tasks. Since there is a 10MB limit per attachment, the free plan is made for personal tasks and very simple team projects.
One downside of Trello is that you cannot split subtasks into smaller tasks, so your boards can get cluttered very easily if you try to break down complex tasks into small steps.
Key Features
Budget Management
Collaboration Tools
Due Date Tracking
Gantt Charts
Kanban Board
Prioritization
Progress Tracking
Resource Management
Task Management
Template Management
Pricing
A free plan with 10 boards per team and 10 MB per attachment, paid plans starting at $9.99 per user per month when billed annually.
5. Todoist — A Free To-Do List for Work and Personal Projects
Image Source: todoist.com
If you're looking for free to do list apps, Todoist should be on the top of your lists. This checklist app comes with interesting ways to boost your productivity, such as Todoist Karma points and productivity visualization. Todoist lets you organize tasks within boards into sections and subtasks, but there are no advanced views.
Todoist provides integrations with many other tools, including Dropbox, Gmail, and Jira. Zapier integration makes it possible to connect your Todoist workspace with other third-party software.
Todoist makes personal task management a breeze with its simple design. If you need a to-do list planner for work projects, keep in mind that the free plan comes with a 5-person limit and lets you create up to 80 projects.
Key Features
Quick Add
Recurring Due Dates
Task View
Favorites
Sections & Subtasks
Priorities
Delegate Tasks
Notifications
Task & Project Comments
Todoist Karma Points
Productivity Visualizations
Completed Tasks
Boards
Templates
Third-Party Integrations
Pricing
A free plan for up to 5 people per project and up to 80 projects. Paid plans starting at $3 per month when billed annually.
6. ActiveCollab — A To Do List Planner and Collaboration Tool
Image Source: activecollab.com
While ActiveCollab works great for personal tasks, this software is best used in teams because of its team collaboration features, such as time and expense tracking. There are multiple views such as Gantt charts and Kanban boards that are great for managing your tasks in an effective way.
ActiveCollab can be used as a checklist app for agile projects since you can organize your tasks within sprints. If you prefer a traditional approach, you can also manage tasks using the Waterfall methodology.
Unfortunately, ActiveCollab doesn't have a free plan. If you're looking for free to do list software and don't need the advanced options that ActiveCollab has to offer, consider some other tools on this list.
Key Features
Agile Methodologies
Budget Management
Client Portal
Collaboration Tools
Cost-to-Completion Tracking
Customizable Templates
Gantt Charts
Idea Management
Kanban Board
Milestone Tracking
Resource Management
Time & Expense Tracking
Traditional Methodologies
Pricing
Starts at $7 monthly per member when billed annually.
7. nTask — A Personal and Work To-Do List App
Image Source: ntaskmanager.com
nTask is among the best to-do list apps for freelancers and individuals and is great for personal project management. Since nTask is designed as an online collaboration platform, you can easily manage work tasks within your team by creating and planning tasks, meetings, projects, and time spent on each project.
The Zapier integration enables you to connect nTask with third-party software and keep all work in one workspace. One of its greatest features is the ability to organize meetings by creating and sharing a meeting agenda, bookmarking key discussion points during the meeting, and adding follow-up actions and decisions. Those who need a to-do list planner for multiple people will find these features amazingly useful.
Key Features
Collaboration Tools
Create Subtasks
Gantt/Timeline View
Mobile Access
Percent-Complete Tracking
Recurring Task Management
Task Board View
Time Tracking
To-Do List View
Pricing
A free basic plan for individuals/freelancers, with paid plans starting at $2.99 monthly per user when billed annually.
8. Any.Do — An Easy To Use Checklist App
Image Source: any.do
Looking for the best to-do list app for Android or iOS? Any.Do is great for keeping track of your tasks on the go. You can use Any.Do on a large number of devices from mobile phones and desktops to Siri, Amazon Alexa, or Apple Watch.
Since mobility is Any.Do's selling point, you can't expect complicated features that some of the other to-do list apps have. The interface is plain and simple, offering a to-do list of your tasks, a calendar view with reminders, and a grocery list template. Any.Do has a free basic plan which is all you need for your daily tasks, but the paid plan comes with some nifty options for task customization and collaboration.
Key Features
To-Do List
Calendar
Grocery List
Reminders
Unlimited Daily Planner
Collaboration Tools
Recurring Task Management
Customized Themes
Color Tags
Location Reminders (Mobile)
Pricing
A free basic plan, paid plans starting at $2.99 per month when billed annually.
9. Omnifocus — A To Do List Planner and Task Manager
Image Source: Omnigroup.com/omnifocus
Omnifocus is one of the best to-do apps for those who need to manage their personal and work tasks in one place. Its forecasting feature shows the tasks that are coming up, so you can easily plan ahead and organize your day. The weekly review lets you track progress and analyze last week's productivity.
On the downside, Omnifocus isn't a free to-do list app, and it lacks collaboration tools so it's aimed at individuals rather than teams.
Key Features
Quick Entry
Free, Encrypted Syncing
Projects
Tags
Notes
Built-in Perspectives
View Options
Review
Flexible Inspectors
Repeating Actions
Batch Editing
Notifications
Light and Dark Modes
Custom Sidebar
Custom Home Screen
Forecast Tag
Custom Perspectives
Focus Mode
Automate OmniFocus
Pricing
A paid plan for $9.99 per month or $99.99 per year.
Image Source: theverge.com
Besides having a great name, Remember The Milk has all you need to successfully keep track of your personal to-do lists. Remember The Milk has apps for the web, Mac, Windows, Linux, Apple Watch, iPhone, iPad, Android phones & tablets, BlackBerry 10, and Fire - everything you need to handle tasks on the go.
This is a checklist app for personal use, since there are no features for collaboration or advanced task management options. Remember The Milk has a free plan, as well as a paid plan that allows you to integrate with other apps via Zapier or create subtasks and perform advanced sorting.
Key Features
Subtasks
Unlimited Sharing
Colored Tags
Advanced Sorting
File Attachments
Mobile Reminders
Badges and Widgets
Apple Watch App
Themes
IFTTT and Zapier Integrations
Sync With Microsoft Outlook
Web App Offline Mode
Unlimited Storage of Completed Tasks
Pricing
A free basic plan, paid pro plan for $39.99 per year.
11. Habitica — A Gamified To-Do List App
Image Source: habitica.com
If you're a gamer at heart, you'll love Habitica. This checklist app uses game mechanics to let you create and manage your tasks, making task management as fun as it can possibly get. Your character has health and experience bars and can build different character traits like in any role-playing game. By successfully completing tasks, you advance your character and unlock various options and quests.
Habitica lets you invite others into your party so you can go on quests and manage tasks together. The only danger with this app is that you can get so involved in the gaming part, that it may affect your productivity.
Key Features
Adding, Editing & Completing Tasks
Reordering Tasks
Filtering By, Adding, Editing, & Deleting Tags
Filtering Tasks by Due/Dated/Weak/Strong
Viewing Completed To Do's
Task Reminders
Pinning/Unpinning Rewards From Shop
Creating & Deleting Custom Rewards
Viewing the Group Plans Shared Task Board
Viewing Group Plan Assigned/Claimed Tasks
Pricing
A free plan, paid plan for $5 per month or $48 per year.
12. TickTick — A Checklist App With A Free Basic Plan
Image Source: pcmag.com
Those who need a simple checklist app for managing everyday tasks will find that TickTick has everything they need. This tool is similar to many other software on this list in terms of interface and features, but there are some interesting additions. For instance, you can set the "annoying alert" - multiple reminders to make sure you don't miss an important task. There is also a Pomo Timer - a Pomodoro productivity technique for breaking down work into time intervals.
TickTick has a decent free plan that is all you need for managing household activities or your grocery list. The premium version unlocks features like custom smart lists, more calendar views, additional lists, etc.
Key Features
Voice Input
Turn Emails Into Tasks
Siri, Widgets and Quick Ball
Smart Date Parsing
Task Duration
Multiple Reminders or "Annoying Alert"
Location Reminder
Recurring Tasks
Folders, Lists, Tasks and Check items
Smart Lists and Custom Smart Lists
Tags
Multi-Priority
Sorting
Search
Calendar Views
Pomo Timer
White Noises
Collaboration Tools
Achievement Scores
Statistics
Summary
Pricing
A free basic plan, premium paid plan for $27.99 per year.
13. ClickUp — A Cloud-Based Checklist App and Project Management Tool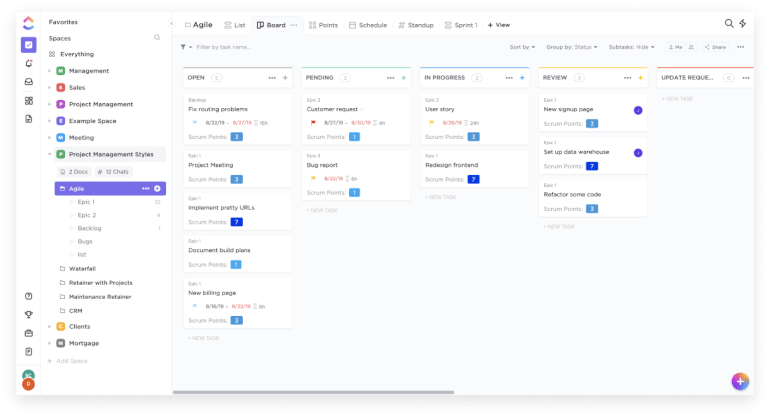 Image Source: clickup.com
ClickUp is a multi-purpose management software that can be used as a to do list planner. It comes with several project views such as boards, lists, Gantt charts, and calendars, which is great for task overview.
ClickUp can be a good choice if you're looking for a way to manage work to-do lists, since it also enables team collaboration, document management, task management, and goal tracking. The downside of having so many customization options is that ClickUp has a steep learning curve compared to most other to-do list apps. If you don't need to handle complex tasks, you may feel overwhelmed by ClickUp's features you don't need to use.
Key Features
Agile Methodologies
Budget Management
Client Portal
Collaboration Tools
Cost-to-Completion Tracking
Customizable Templates
Gantt Charts
Idea Management
Kanban Board
Milestone Tracking
Portfolio Management
Resource Management
Time & Expense Tracking
Traditional Methodologies
Pricing
There's a free plan with 100MB storage, and paid plans that start at $5 monthly per user when billed annually.
14. Toodledo — A Free To Do List Planner and Productivity Tool
Image Source: toodledo.com
Toodledo is a great free to-do list app for individuals and teams, thanks to its collaboration tools. It offers flexibility in managing your tasks: you can use folders, tags, contexts, or subtasks to organize everything in your workspace. Besides task management, Toodledo offers tools to boost productivity, including customizable alarms and hotlists.
Toodledo is easily integrated with your email, calendar, or web browser, and you can import tasks from other task managers. This free app is best suited for small teams and individuals.
Key Features
Folders
Subtasks
Locations
Repeating Tasks
Priority
Tags
Context
Stars
Alarms / Reminders
Hotlist
Attachments
Goals
Scheduler
Statistics
Calendar
Time Tracking
Collaboration Tools
Third Party Apps
iOS/Android Apps
Pricing
Toodledo is a free to-do list app.
15. Microsoft To Do — A To-Do List and Task Management App
Image Source: venturebeat.com
If you're using Microsoft Suite, Microsoft To Do is the most logical choice for a checklist app. You can easily import tasks from other Microsoft apps and sync them all or turn Outlook emails into tasks. All Microsoft To Do tasks are hosted on the Microsoft 365 service.
This to-do list app is pretty straightforward and easy to use. You can manage daily tasks like shopping lists or household chores, but that is as complex as it gets. Since Microsoft To Do aims at personal task management, it can't be used effectively for team collaboration or elaborate tasks.
Key Features
To-Do Lists
Daily planner
List Sharing
Task Management
Notes
Grouping
Reminders
Personalized Backgrounds
School, Work, and Personal Lists
Attachments up to 25 MB
Office 365 integration
Pricing
Microsoft To Do is a free to-do list app.
16. Spike — A User-Friendly Task and To-Do List App
Image Source: spikenow.com
Spike is indeed one of the most beautifully designed to-do list apps out there. Why would you waste time creating tasks from scratch and switching between apps? With Spike, you can turn emails, chats, and invoices into tasks and to-do lists and set reminders so you never miss a task again. If you don't feel like bothering with emails at a certain moment, you can pin the most important ones to the top, and deal with them later.
This checklist app gives you a clear overview of your team's actions and responsibilities, task history, and notifies you about live status updates and when tasks are completed so you can stay on top of your workflows.
Speaking of statuses, once you create a to-do list and start working on items, Spike instantly categorizes them as open, in progress, stuck, and done. Items automatically move along as you or your team tackles them, which can save a lot of time.
Note that Spike makes a great choice for both individuals and professionals, so you can create tasks and to-do lists for yourself or someone from the team. Thanks to Spike's privacy setting, you can also keep some tasks and to-do lists personal and share the non-personal items with the team and invite people to join your to-do lists at a click. Versatile and easy to use, Spike is a unique space for generating ideas, staying organized, and getting things done.
Key Features
To-Do Work and Personal Lists
Task Management
Email-to-Task
Notes
Automated Rules (Snooze, Pin, Archive)
Shareable To-Do Lists
Live Status Updates
Reminders
Advanced Person and Keyword Searches
Collaboration Features
Pricing
Spike offers free, unlimited access to personal users while business plans start at $12/user/month.
17. Things — An Innovative To-Do and Checklist App for Mac and iOS Users
Image Source: culturedcode.com/things
Things has been completely rebuilt lately, and let us tell this—these guys nailed it. The app got a timeless, all-new design and was powered with new interactions and a suite of features that can level up anyone's way of doing things.
Not only Things looks different now but feels great as well. This to-do list app now boasts a great and clear structure that makes it easy to schedule and reschedule to-dos, create repeatable to-do lists, and set deadlines.
Once you create a to-do list, the app lets you assign more details to items within it, such as tags, start dates, checklists, and more. If you have things that need to be done but don't require setting up an entire project, use checklists. They can also help you outline the finer details of each item on your to-do lista so you don't miss critical steps.
On the other hand, Things introduces a new feature when working inside a project—headings. This way, you can break down complex projects into manageable pieces and get a nicer visual structure. You can use headings to give each to-do more depth and define categories, milestones, and more. Some of the finest touches that make Things stand out from the rest to-do list apps include progress pies, sidebar structure, slim mode, and beautiful animations.
Key Features
Easy-to-Create To-Dos
Upcoming To-Dos
Headings
Checklists
To-Do-to-Inbox
Calendar Events
App-Wide Tag Searches
Quick Search and Move
Multi-Select
Multiple Windows
Pricing
Things for iPhone comes at a price $9.99, for Mac $49,99, and $19,99 for iPad.
18. TeuxDeux — An Unbelievably Simple To-Do List App
Image Source: teuxdeux.com
The first thing we noticed about TeuxDeux was its sparse, lovely design. Indeed, this to-do list planner is simple as a paper at first glance for some, yet it boasts powerful features that can make your to-do lists, and days, a lot brighter.
This app makes it easy to write your thoughts and plans down, then figure out which ones are actionable, and put them into focus. This way, you can visualize how light or complex your days and tasks are and eventually make better organization while being considerate about realistic expectations and deadlines.
With TeuxDeux, you can easily create both personal and work to-do lists, add unique titles to each list for the sake of better organization, and arrange these lists by categories. It lets you schedule tasks on specific days and automatically re-schedules them for the next day as soon as the clock ticks midnight just in case you are running behind.
Next, TeuxDeux's drag-and-drop interface makes it a breeze to manually move items and tasks and re-schedule them for when it seems most convenient or organize them by priority if your tasks arise. If you are on the hunt for the best to-do apps that can help you achieve work-life balance, TeuxDeux could be it. Keep in mind it lacks project management and team collaboration functionalities, although it enables sharing with 6 people max.
Key Features
Drag-and-Drop Interface
Recurring To-Dos
Titles
Categories
Timelines
Subheaders and Lines
Tasks-as-Links
Automatic Tasks Roll Over
Color-Coded Lists
Markdown Text Formatting
Pricing
You can use TeuxDeux for 30 days for free to see if you would be a good fit, and pay $2 or $3 per user/month (billed annually or monthly).
19. Quire — A Fresh and Clean To-Do List App
Image Source: quire.io
Quire is a place that encourages you to unfold your ideas and turn them actionable. This to-do list app with amazing graphics gives you focus on the right things. Not only you can create lists but also sublists to gain better control of your workflows and your team's performance.
Featuring Kanban boards, Quire makes it easy to streamline workflows, visualize projects, organize and prioritize tasks, and balance team resources to boost efficiency and productivity. You can use Gantt charts to plan ahead, schedule milestones, and gain a bird's-eye perspective of progress on projects and tasks, and check task statuses at a glance. The app categorizes tasks within your to-do list by the following statuses: to-do, in progress, completed, overdue, upcoming, etc.
Next, Quire lets you view multiple tasks from different to-do lists and projects at once and organize them to your liking, assign a single task to multiple assignees, add tags, sort tasks by priority, and filter critical ones at a click. It would be highly annoying to manually set up tasks that happen repeatedly, right? Well, this to-do list planner makes it simple to create recurring tasks in no more than 10 seconds.
Quire provides the health status of each project and task (the number of projects and tasks and the percentage of each being completed) so you can understand the ups and downs, identify and resolve bottlenecks, and celebrate success with the team as projects get executed.
Key Features
Nested To-Do Lists
Sublists
Kanban Boards
Gantt Charts
Shareable Lists
Reminders
Tagging Options
Filter and Sort
Batch Operations
Slack, Github, and Zapier Integrations
Pricing
Quire is currently free for all users and supports 80 active projects, 35 organizations, and 30 members per organization.
20. Nozbe — The best To-Do List App for Android Users
Image Source: help.nozbe.com
Nozbe works like a charm no matter if you want to stay on top of your personal tasks and to-do lists or collaborate with the team on projects. This to-do, task, project, and time management software makes it sooo simple to organize your time and get things done.
It boasts an intuitive and easy-to-use interface that guides you through creating and sharing projects, to-do lists, and tasks with the team, delegating tasks to your teammates, attaching files and comments, and inviting guests to contribute.
You can categorize tasks within to-do lists by priority, your team's activity, tags, and even by favorite tasks (if you are using Nozbe personal). Nozbe for Teams gives each team member a quick overview of tasks assigned to them organized within to-do lists and sorted by priority/urgency. Once tasks get completed, this checklists app checks them one by one and removes them from the list as the new ones are added.
Nozbe works on any screen size, from anywhere in the world, and it is definitely one of the most versatile to-do list apps, for both personal and professional use, on the market.
Key Features
Unlimited Projects, To-Do Lists, and Tasks
Task Priorities
All Tasks View
Advanced Sharing
Reminders
Notes
Tagging Options
Team Collaboration
Productivity Reports
Evernote, Dropbox, Box, Microsoft Office, and Google Calendar Integrations
Pricing
Nozbe's Solo/Duo plan is priced at €7/month, Small Business plan (up to 8 users) €17/month, and Business (unlimited users and features) €67/month.
Conclusion
From managing your grocery list to collaborating with coworkers, there are so many ways to use the to-do list apps we have reviewed. We hope that this article gave you a better idea on which tool is right for you.
If you're interested in learning more about Infinity, schedule a demo call with us, email us at team@startinfinity.com
FAQ
What is the to-do list? A to-do list is a list of tasks you need to finish, either personal or work-related. What are the benefits of a to-do list? By making a to-do list, you keep track of everything you need to finish and make sure not to forget anything. If you check off items on the list as you finish them, it is easier to plan and manage your time. Is there an app for making lists? There is a large number of apps for making lists: Infinity, Google Tasks, Toodledo, Remember The Milk, Habitica, and many others. How do I create a to-do list? You can create a to-do list from scratch by writing down every task you need to finish. A simpler way to make a to-do list is to use a pre-made to-do list template that helps you sort and organize tasks by priority, deadlines, etc. What is the best app for a to-do list? Infinity is great for making to-do lists because it gives you the freedom to create and organize your lists any way you like and customize them using 20 different attributes or filtering, sorting, and grouping features. Infinity also offers templates you can use to quickly create different types of to-do lists.